LOCATION
Mochlos, Crete
Acantha Villas are located on a hill just before reaching the picturesque village of Mochlos.
Mochlos is one of the few remaining fishing villages at the north coastline of Crete, between the capital Agios-Nicolaos and Sitia town in the county of Lassithi.
Mochlos is one of the most significant centers of Minoan civilization. The first inhabitants settled here in the first Minoan period (3650-3000 B.C.) However, in 1600/1580-1480 B.C. the city was destroyed due to the volcano in Santorini and the tsounami that followed the eruption. So great is the historic importance of this place that can be proved by the continuous excavations and the exceptional finds which are exposed now in Heraklion Archaelogical Museum.
A visit on this historic island just a few meters opposite the village of Mochlos will make you travel to the past in the ancient times of this place and imagine the daily routine of the Minoan residents.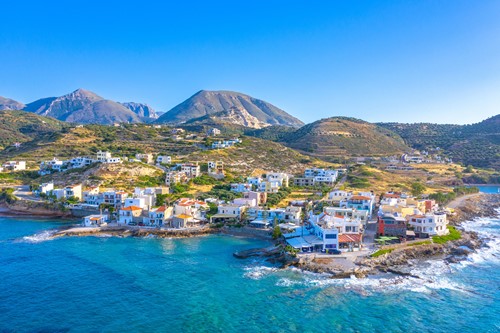 IN THE VILLAGE YOU CAN FIND 
taverns, cafés, bars, mini-market, souvenir shops, woodcraft shop, taxi
HOW TO REACH
Airports: Heraklion (HER), Sitia (JSH)
Ports: Heraklion through Piraeus
Road: National Road Heraklion-Sitia and then by-pass from Platanos to Mochlos (distance: 100 km – 1h30min)
GOOGLE MAPS PIN
35°10'41.8"N 25°54'16.8"E